Rule 1: Post the rules


Rule 2: Answer questions the tagged set for you in their post then make 11 new ones


Rule 3: Tag 11 people and link them to your post.


Rule 4: Let them know you've tagged them

QUESTIONS, courtesy songofthecuckoo

1. Favorite non-domesticated animal?

Cassowary….
Questions for youse guys:

1. Have you ever vandalized anything?
Some people would consider it vandalism. I'd say it was an art piece about the reclamation of public space.
2. Any discontinued candy bars or other junk food products from your childhood you still miss, desperately? That you'd pay real, grownup money just to eat again, one last time?
Coca-cola made with real sugar. Chocolate soda. Green River (they're not discontinued, just hard to find in these parts). I really like soda.
3. Closest celebrity encounter?
In 2008 I met Matt Groening and totally flipped out.
More recently (last June) I was on my way to the Flatiron Building in NYC and realized the guy walking down the street next to me was Phillip Seymore Hoffman. Did my best not to stare as he passed me and went into Eisenberg's Sandwich Shop. Exciting.
4. Something you thought you would have accomplished by now:
A book deal. Working on it.

5. What are your favorite and least favorite things about whatever season this is?
Spring is pretty, but I am allergic to everything and totally miserable. Wish I could trade in this weak human body for a robot one.
6. Which animal will rise to be the dominant species on earth after we humans inevitably destroy ourselves?
Housecats.
7. What's the dumbest thing you're nostalgic for?
8. If you could punch one celebrity or public figure square in the face and get away with it 100%, no negative consequences for you, would you do it? And who would you punch? WHO WOULD YOU PUNCH?
I am against punching anyone because it would hurt my hand and I am bad at it.
That said, if all the politicians who voted down the "Paycheck Fairness Act" were lined up in front of me right now…
9. If you had to work full-time but didn't have to make money, where would you volunteer your time?
Animal shelter.
10. If you were going to pursue a career based solely on how that career is portrayed in popular media, what would it be? Why?
Still a cartoonist.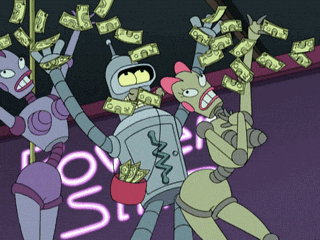 11. Would you rather take an emotional risk or a physical risk? Does the degree of risk make a difference in your answer?
Emotional.

dreamydaffodils asked: Hiya! I love the watercolor style you showed on your commissions post and was wondering if you could (if asked, I'm not sure if I'm doing it officially) possibly draw an ostrich with a human head? Like, the head of a specific person? Is that possible? Love your work and thanks for your time!
Sure! I can do that. You can order commissions through my shop here- https://www.etsy.com/listing/75168250/4x6-watercolor-sketch-of-whatever?ref=shop_home_active_4
What I was up to today at ECCC:

My hardcover Kickstarter copy of To Be or Not to Be, which Ryan North - ryannorth - for reals signed this time

Carol Corps pendant and dog tags from the Carol Corps panel

Giraffe ice cream print from Jeannine Schafer - neenerbot 

Lumberjanes #1 ECCC exclusive signed by Noelle Stevenson - gingerhaze - Grace Ellis - ohheygrace - and Brooke Allen - brookeallen 

Mulan print from Claire Hummel - shoomlah

Day of the Dead Mario and Luigi postcards from Eric Gonzalez of Muertoons

Nimona panel print that I brought and Noelle Stevenson - gingerhaze - graciously signed for me (yay shark!)

Giraffe watercolor commission from Colleen Frakes - colleenfrakes 

Monster undead giraffe sketch from Abby Howard - abby-howard 

Not pictured, as it will be on it's way to me next week: a Hawkeye giraffe commission from Maris Wicks - mariswicks. Hehe!

All in all, a great day!! Oh, I also got to hang out with friends and see a great Captain Marvel/Ms. Marvel panel and meet some cool artists, sometimes awkwardly.
Another ECCC commission! A happy giraffe with a purple tongue.
Last chance to vote! Thank you to everyone who has like, reblogged and/or voted for your support! Winners will be announced tonight at 11:30 pm PST :)